Interested in Technique Lessons or hosting a Swim Camp?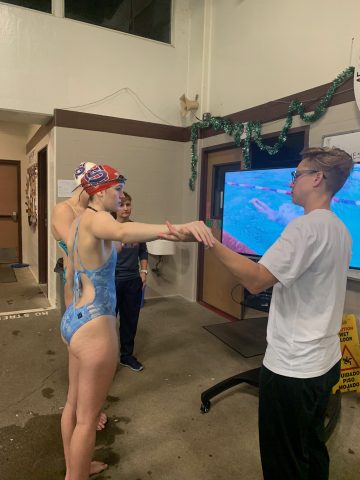 You've come to the right place. Coach Abbie frequently works with swimmers of all ages in-person. If you'd like more information on Individual or Team Technique Sessions, please email abbie@swimlikeafish.org!
---
Reviews:
Coach Sandra Bullock
Coach Eric Boender
The Grand Rapids Christian High School Varsity swim team recently spent a week of technique training with Abbie Fish in sunny Key Largo. Certainly time well spent as Abbie was able to bring insight and improvement to each individual swimmer. A big BONUS was that several of our swimmers swam personal bests at their next meet thanks to Abbie's instruction. A great experience and investment of time for the team! Thanks, Abbie!
Craig (Masters Swimmer)
"I am masters swimmer seeking to improve my Freestyle and Breaststroke technique. I found Abbie's site through a teammate and after reviewing her background, I felt very comfortable signing up for my first 1:1 clinic. Registering was very easy and Abbie was very accommodating providing all the information I needed for my first time. I selected a 2-day course (two hours each day) based out of her pool in Louisville, KY to focus on my Free and Breast.
I can't begin to say enough good things about how amazing my 1:1 sessions with with Abbie. On Day 1, we spent some time discussing my background, goals, and goals for the clinic. Once I was in the water it was evident the wealth on knowledge and experience Abbie possesses. I came to Abbie with a galloping Freestyle, expending a lot extra energy. By the end of the session, I was already on on the right track to a smoother Freestyle. Abbie is very good at explaining the physiology of what was going on in a manner I could follow. We practiced techniques and drills that changed my feel and understanding of my body in the water.
Day 2 was equally as valuable as we focused on Breaststroke technique. The knowledge and reliability of what Abbie provides is remarkable. I would strongly recommend Abbie to anyone. I learned so much about myself and my strokes. As a masters swimmer who has been at it for a while, it is exciting to work with someone who is so knowledgeable and can relate to you in the water. I intend to see Abbie again soon to continue the work we've started!"–Craig (Masters Swimmer)
Eve (Masters Swimmer, Retired Division I Swimmer)
"I took 2-day private swim clinic with Abbie–specifically to work on starts, Breaststroke, and Freestyle. I had swum at a Division I college but had taken over a decade off of swimming and had significant stroke deficiencies in terms of the new techniques out there. Abbie completely transformed my strokes (and start) from their very foundation and I've never felt smoother or faster in the water- I cannot wait to see how much faster my times will be this season. Abbie was able to immediately identify tiny mechanics issues with my stroke, make changes, and explain to me the physics and hydrodynamics behind her reasoning for the changes. Never have I encountered someone so knowledgeable about the sport from big picture things to the most minute body positioning changes. I also enjoyed the TritonWear wearable that I got to use to see changes in my stroke drag. She has a great style and energy about her coaching that instantly makes you feel that she is incredibly knowledgeable and well-informed and that giving back to the sport through coaching is her absolute passion. I plan to make a visit to Abbie a yearly pilgrimage in my swimming career." – Eve (35-years old, Masters Swimmer)