The world of competitive swimming has changed a lot over the last 20 years, and now – there are multiple new levels of competition here in the United States. Some of these new levels have been added as recently as the last 5 years! And I KNOW, I am not the only coach out there who has questions about these new levels of competition, and it is frustrating because there isn't a great resource out there to explain these levels, so our goal today is to answer some of your questions and cut down on the amount of time that you need to spend researching. So here's our short-list on the USA Swimming Competitive Swimming Pyramid!
Let's get started!
Why did all these competitive swimming levels and new meets get created?
Put swimply, it was a series of events that created the need for more levels in the pyramid. The number of people swimming increased. Coaches got better at coaching swimmers to swim faster. Qualifying meets reached capacity and pushed qualifying times to get faster and faster. This created a gap in ability and competition available to swimmers. Location, amateur status, number of meets, and age were used to break up the numbers of people at meets and continue to encourage a high level of competition. Gradually introducing these components also allows swimmers to gain experience at varying levels of competition regardless of their age.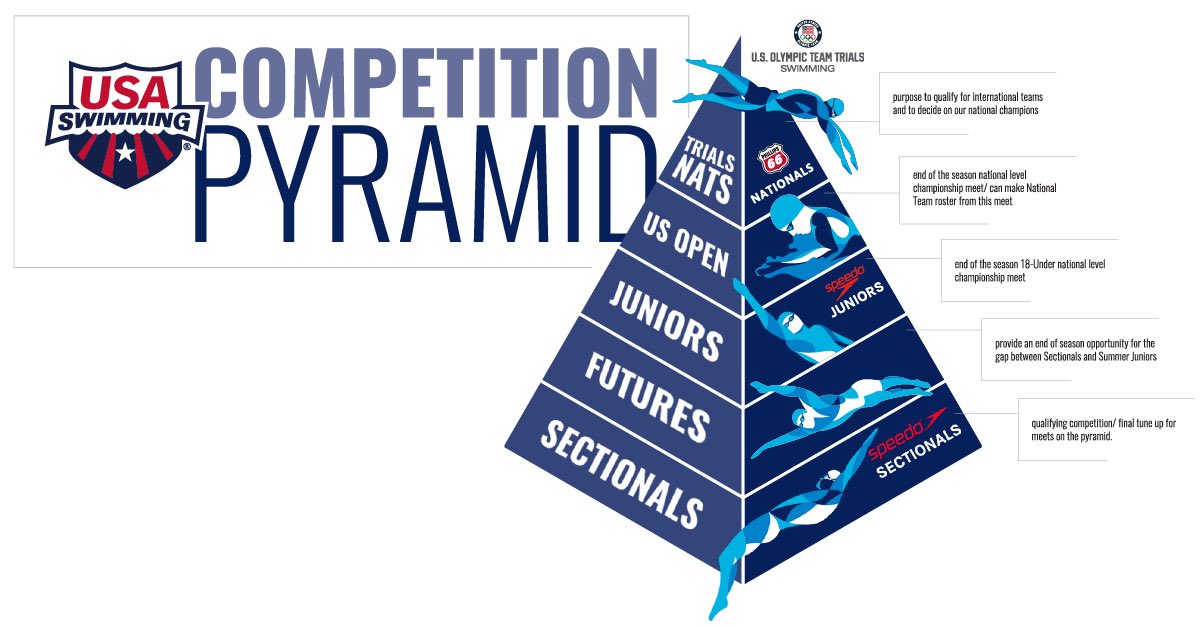 Let's start with the base of the competitive swimming pyramid and work our way up.
1.) Speedo Sectionals
The base of our pyramid has no age brackets and is meant for competition between swimmers that achieve designated qualifying times. Sectionals meets take place in each region across the US during the summer. Athletes who qualify in one event can enter in a set number of bonus events for that meet. At Speedo Sectionals, bonus events do need to have an official time during the qualification period; while some Sectional meets require actually Bonus qualifying times and other Sectional meets do not. This varies by which Speedo Sectionals you attend.
2.) Futures
Has faster qualifying times than Sectionals and is also held during the summer. These meets allow swimmers to compete on a larger, faster scale than Sectionals. Only four Futures meets are held throughout the US. How do you know which Futures meet to attend? It all depends on what LSC you belong to. Bonus events at this level do not have time standards.
3.) Speedo Junior National Championship
Qualifying times for these East and West Championship meets have faster cuts than Futures and are held during the Summer and Winter. This is an international level meet. All athletes must be 18 years old and under on the first day of competition. Swimmers may enter a set number of bonus events, as long as they are permitted by the meet's guidelines. However, all bonus events must meet a separate time standard.
4.) US Open (or Senior Nationals)
This is an international-level meet organized by USA Swimming during the Summer and Winter months. Only swimmers who achieve qualification times are able to participate. Swimmers are able to participate in a set number of bonus events that meet the bonus time standard. Members of Olympic, National, and Junior National Teams may compete in the event as well. A common nickname for this meet is Senior Nationals. From this level on, there is only one meet of its kind held throughout the US.
5.) Philips 66 National Championships
Swimmers of all ages are able to participate in this meet as long as they meet the time standards. What's the difference between this meet and the US Open? Qualification times for this meet are FASTER.
6.) Olympic Trials
These happen every four years. Olympic trials are rumored to be just as difficult as the Olympics themselves in the US. Why? The United States has a lot of good swimmers. To put this into reference, there are about ~400,000 registered USA Swimming swimmers and the goal of Olympic Trials is to host about ~1,250 swimmers at meet. This means each registered USA Swimming Swimmer has about a 0.3% chance of making the Olympic Trials meet.
7.) US Olympic Team
The top two finishers in each event at Olympic Trials make up the US Olympic team. The Women's 1500m Free and Men's 800m Free were added to the Olympic event list back in 2021, so instead of top 6 potentially making the team in the 200m Free and 100m Freestyle events – we now see more of a guarantee of the top 4 making the team in those slots. There are only 26 spots on both the men's and women's side for the Olympic Team – putting the total Olympic Team size at 52 swimmers. This gives each swimmer a 4% chance of making the team that competes at trials.
We actually composed an entire spreadsheet on all the Olympic swimming events and calculated out that the 200 Free is the hardest event to perform. Why? Check out our data here.
Do Swimmers have to Climb the Pyramid in that Order?
No, they do not. Lydia Jacoby wasn't part of a Junior National Team and the Olympics were her FIRST international meet. Oh, and by the way – she did win GOLD there too.
Some Olympians progress through all the levels of competition in USA Swimming; others don't, and that's totally fine. Is it good to know about the levels of the pyramid? Of course. The levels of competition create structure and it's up to the coaches to really see and work with the swimmer in front of them. I would say knowing the levels of competition is essential for coaches to be able to continually help athletes figure out what's next. So if you're a coach out there looking to improve your coaching abilities, check out our Stroke Courses for Coaches because you don't need to be a coach on the largest team out there to be great.
Until Next Time,
Abbie Fish