A few years back I wrote an article for Alert Diver Magazine, and it dawned on me that that article IS very relevant to all swimmers right now. After all, you can find hours upon hours of content from coaches claiming — THESE are the BEST Swimming Resistance Band Exercises, but who actually know, right? There are thousands of exercises you can do with resistance bands, but we've never had a swimmer just train on land and swim fast in the water.
So my goal when giving advice in regards to swimming resistance band exercises comes from a strength and conditioning background — helping educate swimmers (or athletes) on what exercises will help keep them in shape and work the same muscle groups (as you work in the pool) with some fun 'sport-specific' twists too.
Let's review these exercises (plus 2 NEW ONES)!:
1.) Chest Flies
I love doing Chest Flies, because they are a great exercise to work your upper body. Every stroke you swim down the pool requires firing from your chest muscles. Lots of times swimmers become very strength dominant on the front-side of their body compared to the back, due to the fact you use your chest SO much while swimming.
2.) Overhead "Y"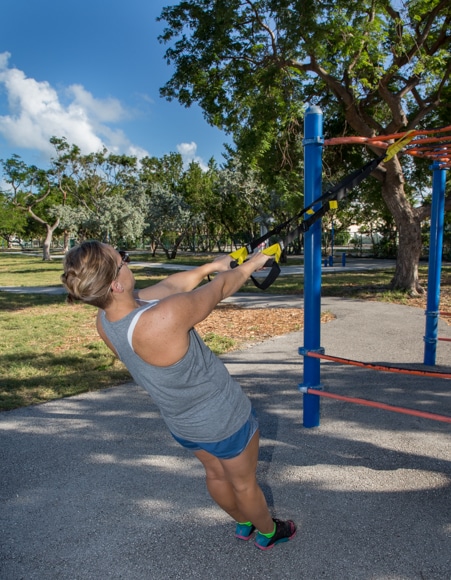 I enjoy doing this exercise and have been doing it during my dryland classes — as it does a great job of mimicking the pulling/recovery motions of Freestyle and Backstroke. By really isolating the muscles of your shoulders, you feel a nice burn in your deltoids when doing this exercise.
3.) Assisted Pull-Ups
The name itself draws attention for swimmers. After all, we all want to pull A LOT of water while swimming down the pool. I love performing assisted pull-ups, because it takes out you having to move your bodyweight and allows for longer (more endurance) based pull-up sets.
4.) Hip Extensions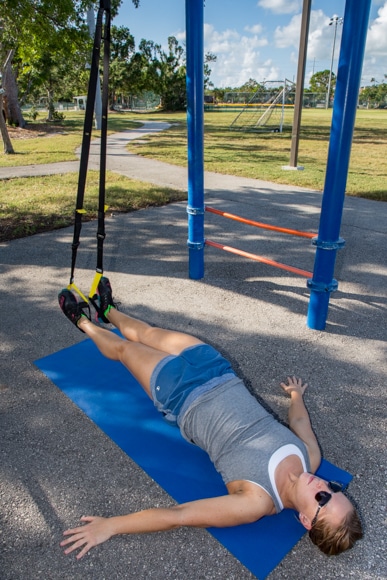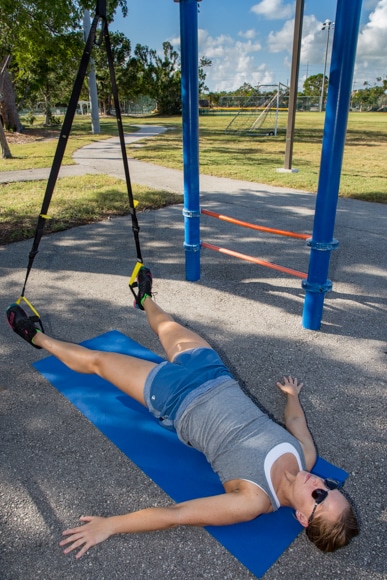 If you're a Breaststroker or a Flyer, hip extensions are a great way to keep your hip muscles healthy and strong. If you add in the ability to perform them with a TRX band, you also activate your core to keep the hips risen throughout this movement as well. Get ready for a core/outer hip burn!
5.) Glute Bridge
Same thing as the hip extensions, the elevated glute bridge will have all the muscles on your posterior chain FIRING as you perform this exercise. This is a great exercise for dolphin kickers and younger kids who need a bit more core strength!
6.) Early Vertical Forearm Pull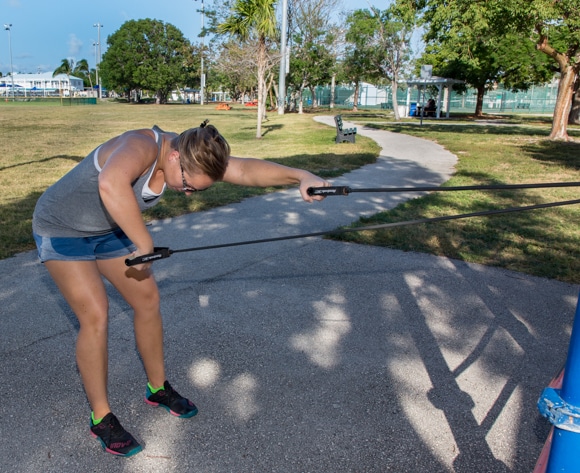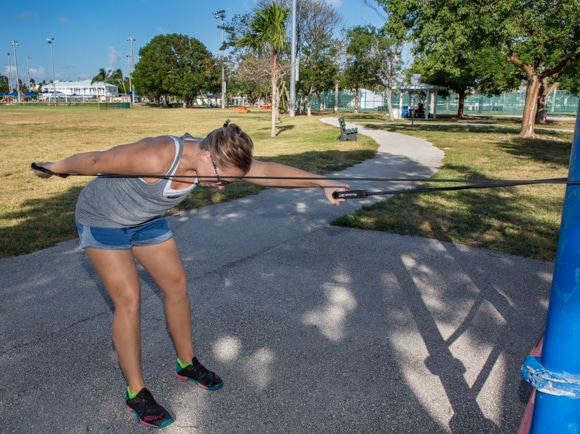 Still trying to get that EVF (or high elbow) pull? Now's a great time to isolate your arms and really get through that range of motion. You can use resistance bands to help you SEE what's happening within your pull and ensure your elbow is the LAST part of your arm that moves backwards during your pull!
7.) Breaststroke Pull
Missing your time in the pool and want to keep those forearms nice and activated? Perform some Breaststroke Pulls with your resistance band. Be sure when you complete these that you are far enough away, that your bands are providing a high level of resistance at the start of this exercise!
If you're looking for some resistance bands to purchase, my favorite ones on the market are Crossover Symmetry's. I use them at my house and during the FREE dryland classes I'm hosting everyday. If you'd like to snag your own set of Crossover Symmetry bands, use code: SwimLikeA.Fish at checkout to receive 15% off!
If you want to join us for the FREE dryland classes, click here!
Until Next Time,
Abbie Fish