Welcome to Part 2 of our blog series dissecting the USA Swimming Competition Pyramid. In Part I of our series, we got into the weeds about the upper level of elite competition. Basically, we looked at all the USA Swimming sanctioned meets that are Sectionals and above. For Part II of this series today, we are going to look at all the meets that happen around the US from Sectionals on down. We want to answer help you better understand the age group swimming competition levels, as it is easier to answer what the higher-level athletes are doing.
So if you're new to competitive swimming or within your first few years of competing, we hope to answer what meets you should be aspiring to and help you better understand how these all build up to the biggest swimming competition in the US: Olympic Trials.
Age Group Swimming: From the Bottom of the Pyramid Up
Non-qualification Meets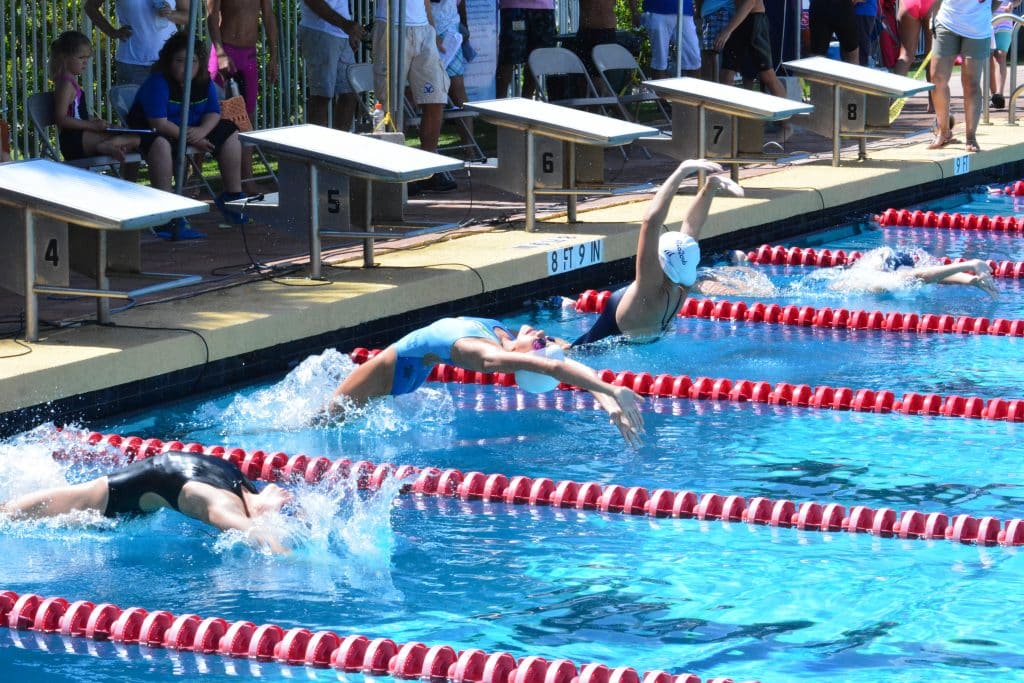 If you just started swimming, chances are you will start with some non-qualification meets – and you'll probably be getting pretty nervous! Nerves or "butterflies" are normal at every level of competition. If you're gearing up for your first swim meet or are looking for ways to support a swimmer who is, click here for some applicable coaching advice to help your swimmer succeed at their first meet.
Non-qualification meets allow any registered USA Swimming swimmer to compete. Why should swimmers compete? Well, competition is like performing. Swimmers work hard to hone and develop their skills. Just like performers and athletes from other sports, they need a place and space to show what they've been working on. A skill isn't quite learned or mastered unless it can be performed under pressure. Swim meets provide that pressurized environment. These swim meets are held close to or at the pool a swimmer practices at and normally are very low key, which makes them a great first step into the competition pyramid.
Local Qualification Meets
Swimming is a popular sport. Each swim team in USA swimming belongs to a LSCs or local swimming committee. LSCs are designated committees of volunteers who are passionate about swimming who help organize competitions for swimmers in set geographical areas. Throughout the US there are 59 LSCs. Yes, there are more LSCs than states in the United States as some states have so many swimmers (or very large geographical areas) they are divided into multiple LSCs. LSC committees are important because they help organize, regulate, and facilitate swim competition and that meets the needs of swimmers in their area. When a certain locale has a lot of swimmers, LSCs can allow teams to host qualification meets. In order to participate in qualification swim meets, swimmers must meet designated time standards.
The name of these meets vary depending on where in the US you are competing. Also how they are structured, quickness of their time standards, and time of year all vary too. Your club swim team will have some of these meets already built into their meet schedule at the beginning of each new season.
Age Group Championships
Each LSC in USA Swimming hosts at least one Age Group Championship meet. Age Group Championship information varies from LSC to LSC. While that may make understanding the pyramid of competition difficult to understand, there are also advantages to this structure because each LSC is able to offer end of season Age Group Championships according to their locale's needs.
Age Group Championships usually occur twice a year, once for the short course yards season, and once for long course meters. Some time these meets are called State Championships and other times they are just structured as a Championship Meet. All these meets typically have a prelims and finals format for set age groups. There are exceptions to this format like in Maine. Until 2019, swimmers in the Maine LSC traveled to St John, Canada for their Age Group Long Course Championship Meet. But now in 2022, Maine hosted their first Long Course Championship in a brand new 50 meter pool at Colby college.
For some states and LSCs that do not have large numbers of swimmers or are geographically spread out, Age Group Championships is their first USA Swim meet that requires qualifying times. States with higher swimmer population densities often have other meets that require qualifying times according to the USA Swimming time standards. The qualifying time on this time standard is set by the LSC. Some LSCs always allow bonus events up to a set maximum number. Other states only allow bonus events if there is enough space in the meet. Still other states do not allow bonus events, meaning a swimmer must meet time standards for every event they wish to compete in.
LSCs structure Age Group Championships to support all kinds of swimmers in their community. It is up to these committees to decide things like if 8 and unders will be recognized as a point scoring age group separate from 10 and unders or if they need to "swim up", if there will be only one age group championship meet, and more. The timing of Age Group Championship meets varies based on where you live, but typically falls around the beginning of March and August and that marks the beginning of "Championship Season".
It is important as you continue to climb the USA Swimming Pyramid that a swimmer remembers why they started swimming in the first place. Swimming is a very honest and hard sport, so if you're starting to see your swimmer really excel at an Age Group Championship level – have them read this blog to help set them up for future success.
Age Group Zones
This meet typically takes place shortly after Age Group Championship Meets and follows a similar preliminaries and finals format. Each LSC belongs to a Zone. There are 4 Zones: Eastern, Central, Southern, and Western. At Zones swim meets, swimmers get to represent their LSC and compete against teams from other LSCs that belong to the same zone. LSC teams can be comprised of up to 48 men and 48 women. The selection process for swimmers varies by LSC and is meant to encourage a higher level of competition for age group swimmers. Normally most Age Group Zone Meets are 14 and under – some include 10 and unders and some don't. The selection process for zones varies by LSC. Some LSCs use time cuts; others use a combination of power points and time standards. For a breakout on each zone and its' selection process, read below:
Eastern Zone:
The Eastern Zone does have a Short Course and Long Course Zone meet. It includes time standards for both. 10 and unders are included and the meet caps at the 13 and 14 age group.
Southern Zone:
The Southern Zone does not have a Short Course Zone meet. There is a Long Course Zones though. This meet is selected like an All-Start Team, which the selection process is all run by the LSC. For example, the selection process for Kentucky Swimming is based on team manager's powerpoint system. If you get a time that is top 8 from a the previous year's results, you are automatically selected to the team.
The Western Zone:
The Western Zone mirrors the Southern Zone and only has a Long Course Zone meet. This meet is a selection based meet that includes 10 and unders up to 13/14s.
Central Zone:
The Central Zone does the same as Western and Southern and only provides a Long Course Zone Meet. There are time standards for the zone meet that correlate to about AAA time standards. There are no bonus events included and it is a prelim/finals meet. You can swim up to 6 events total and the meet spans 3 days – you can swim no more than 3 events per day either.
Conclusion
A lot of swimming competition is structured and facilitated by LSCs. Some LSCs work with other LSCs to offer more levels of competition opportunities for their swimmers that fall before and after Zones. Like for example in the Central Zone, they ran a Mega Zones meet which includes 16-20 different LSCs and this meet takes place about every four years. As to be expected though, there are many swimmers who do not compete at the Sectional level and that is okay. When a season ends, it's natural for swimmers to have big emotions about their results – some good and some bad.
Next up, we will be taking a closer look at some meets that are specific to each zone around their Age Group Championship Level – including Senior Championships and Senior Zones. Be sure to keep a lookout for upcoming Zone Specific Blog Posts. And if you're new to swimming keep having fun at the local meets and continue to look for all the opportunities your LSC has to offer. Swimming is a lifelong sport that is full of many life lessons – it doesn't have to be you aiming for the Olympics to make you a successful swimmer!